Choosing the Right Sink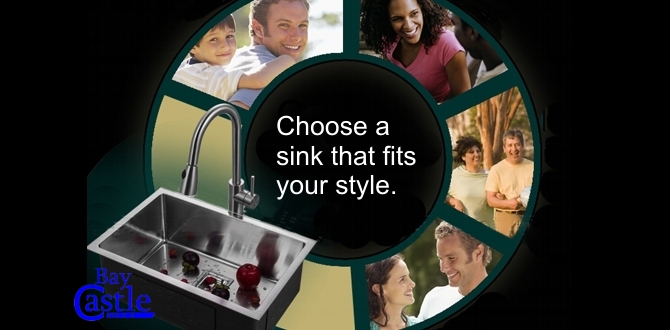 Choosing the Right Sinks
Your Kitchen style
With the kitchen's evolution into the home's multi-functional hub of activity, sinks have had to keep up as well. The result is a legion of choices involving everything from materials to bowl configuration that suit your life style. Determing the main theme and style of your kitchen will help you in the process of selecting the right sink. In choosing the right sink, determine the shape, size, design and features you want that will best suit your everyday needs and style of living.
Stainless Steel Material
Stainless steel sinks have broad appeal for their neutral, clean looks and durability. Available in brushed and polished finishes, better sinks are made from thicker steel, measured by gauge thickness. Higher gauge numbers equate to thinner steels (in other words, 20 gauge steel is thinner than 16 gauge steel). With minimal care, your Castle Bay sink will look new for a lifetime.
6 Reasons to choose Stainless Steel Sinks
Tough - Stainless steel is more durable than porcelain and cast iron, and more forgiving than composites. Stainless steel sinks won't chip, nick or crack.
Luster - Stainless steel will not rust, stain or fade, and it keeps its luster longer while other materials.
Absorbs Shock - Stainless steel sinks on impact will "give" to cushion glasses and dishes against breakage.
Easier to Clean - Stainless steel retains its luster when cleaned with household cleanser and a soft towel. Healthcare facilities trust stainless steel sinks due in part to their sanitary surface.
Greater Capacity - Stainless steel has strength and flexibility that allows for deeper sink bowls. It has more overall usable space than porcelain or cast iron.
Complements Any Décor - Stainless steel sinks have clean lines and a cool texture that reflect surrounding colors and patterns. Also, it complements any décor long after trendy colors are out-of-style.
Undermount Sink
There are basically 2 styles for mounting the sink - undermount versus topmount (drop-in). Topmount or drop-in sinks are the easiest to install. They simply fit into a cutout in the countertop on top of a base cabinet, supported by the flanges of the sink that overlap the cutout. This is a common application for laminate countertop.
Undermount sinks are attached under the countertop. They either hang from the underside of the countertop or are supported from underneath by the base cabinet structure.
Sink Configuration And Size
Sink configuration simply refers to it's broad attributes like quantity of bowls, square or round corners, bowl depth, etc. Both the size and the configuration are important because they directly relate to usability and effectiveness. For example, a small galley kitchen might do best with a smaller, single-bowl configuration whereas a large kitchen may be able to accommodate a wide three-bowl, multi-depth chef sink. Choosing a size and configuration that suits your kitchen and lifestyle makes for the best match.
The length and depth of the cabinet, on top of which the sink will be located, are the factors that determine the maximum size of an installed sink. A new sink should have exterior length and depth dimensions several inches less than the cabinet.
Bowl Depth
Normal depth usually ranges from 7-10 inches. A deeper bowl can more easily accommodate the use of large pots and cookware but a user?s height should be considered. A shallower bowl might provide greater comfort while working in and reaching to the bottom of the sink. Depth can also be inhibited by accessories under the sink like a garbage disposal, recycling bin, etc.
Sink, Faucet, Accessory Setup
You'll need to know the type of faucet setup you're going to use. You'll also need to determine whether you plan to use additional features like water treatment accessories and/or a soap dispenser for the purpose of specifying the right number of faucet holes in the sink.