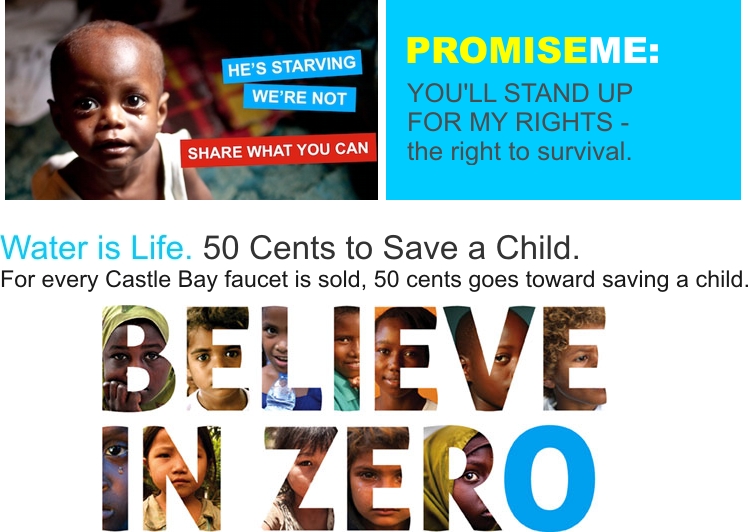 Water is Life. 50 Cents to Save a Child.
For every Castle Bay faucet is sold, 50 cents goes toward saving a child.. Yet nearly 900 million people do not have accessed to clean water
Water is life. Water-borne illness is the second-highest cause of childhood death in the world. When water is unsafe and sanitation non-existent, water can kill. Castle Bay is fundraising 50 cent event for UNICEF Canada to show our support for the thousands of children that have to walk long distances every day to collect water for their families.
•Just $1 can provide a child with safe drinking water for 40 days.


•Every day, more than 5,000 children die of water-related diseases.


•Nearly 900 million people worldwide lack access to safe drinking water.

Every day, UNICEF workers all over the world, delivering the vital supplies that you purchase to some of the most remote, hard-to-reach places on earth. The 50cents represent not only how far UNICEF will go to help a child in need, but also what is possible when we work together. Because with your help, no child is too far.

If you're looking for an interesting and unique gift for a loved one, we would recommend checking out UNICEF's Survival Gifts program, which allows you to donate to a worthy cause on behalf of someone special.

Castle Bay is proud to support UNICEF's Survival Gifts program. Every Survival Gift is a life-changing event and when you choose to give a gift, it means a child can go to school, drink clean water, or get desperately needed nutrition and medicine.

As part of our ongoing efforts to support UNICEF, we have been actively promoting the Survival Gifts program and we are delighted to announce that for every faucet is sold, 50 cents will be donated to survival gifts as part of our charitable program. It's simple, it's a gift of survival.

18,000 children die every day from preventable causes. So if you?re still trying to find an awesome gift for that special someone, think about a Survival Gift from UNICEF and save a child's life. Click here to donate to UNICEF Survival Program